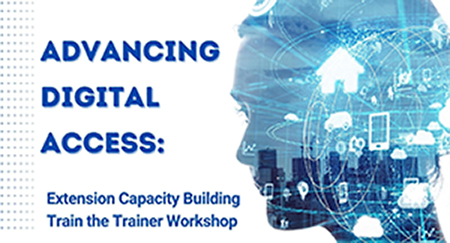 Digital access is vital to community wellbeing.  Yet many communities and individuals lacking access struggle with navigating the divide.  In partnership with Extension Foundation and NIFA, the National Digital Extension Education Team (NDEET) is offering a three-day in-person intensive train-the-trainer workshop for teams of Extension professionals interested in helping close the digital divide in their state. 

Key roles Extension can play in this process include two key arenas:
(1) community organizing and planning, and
(2) educating on digital skills needed to make use of available broadband access. 

This workshop will equip participants with both training and tools to guide efforts to close these critical gaps that greatly impact quality of life and economic recovery.
Who should attend?
Extension Teams of 2-3 who have a strong desire to build Extension's capacity to aid in closing the digital divide in their state.
What will be explored?
A model to facilitate community organizing and planning efforts for digital access and use
A method and toolkit for supporting digital skill development across Extension program areas
Cost:
The cost of materials and training expenses are paid by a grant. Hotel, airfare, meals outside of training times, etc. are the responsibility of the partcipant. The room block is provided to help reduce costs and esure convenience for partcipants.
When?
May 3-5, Full Day sessions each day (8:00 – 5:00)
Hotel Room Block Registration: Click Here