What do artisans make and sell?
Craft is defined as handcrafted products, either one-of-a-kind or multiples, but not mass produced. Craft can be created from a variety of different media (the materials used to make the craft). Media include: paper, metal, leather, fiber/textiles, leather, clay, wood, paper, plastics, enamel, organic materials, glass, and mixed media. The types of products vary widely from unique, finely handcrafted wood, glass, metal, and fiber creations that can be either decorative or functional or both. There is a broad range of types of crafts.
Where do artisans sell crafts?
Crafts are sold through both retail and wholesale methods. As retail, they can be found at craft fairs, in artisan-owned stores, museums, galleries, retail stores (including gift shops, tourist souvenir shops, apparel, furniture), or sold directly to customers and online. As wholesale, they are sold through trade shows, directly to retailers, through sales representatives, catalogs, and other venues. According to the Craft Organization Directors Association (2001) survey 52 percent of sales are direct retail sales, and 27 percent are sold wholesale.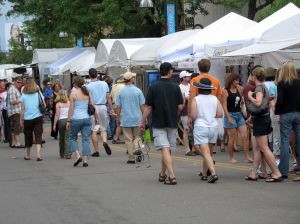 What is the economic impact of the artisan industry?
CODA (2001) further reports that the artisan industry contributes over $13.8 billion annually to the U.S. economy. To view economic impact reports from several states go to: http://www.codacraft.org/pages/home/home.htm
Sixty percent of artisans' gross sales are made within the state home of residence. Craft fairs and festivals usually reach regionally, although thousands of people attend. This represents tremendous opportunity to expand sales beyond state borders through e-commerce. The majority of artisan businesses are microenterprises, comprised of both home based businesses and commercial sites. The estimated number of microenterprises can be found at http://www.microenterpriseworks.org. For example, in Texas, an estimated 82 percent of all businesses are microenterprises that employ 0–5 employees. At fairs, craft vendors will sell directly to the public, although no data are available on the amount of sales attributed to handcraft. Total impact is measured by the total sales of all vendors, regardless of type. The Texas Commission on the Arts, a Texas state agency, commissioned a study of the economic impact of the arts in Texas. Though the study included performing arts, arts education, and much more, it is clear that arts—including handcraft—makes a significant economic impact in Texas.