Find a Team
Most Connecting Communities projects start with an individual or a small group of individuals who realize how important broadband services and the use of digital technologies are to their community's economic and social well-being.
Whether you are only going to work on a few small projects or undertake a multi-year initiative to build digital capacity across the community, you need to recruit and organize people that will energize and guide the project from start to finish. You will need both a project champion and a leadership team.
Connecting Communities Project Champion
Most successful connecting communities projects will have one or two individuals who acts as project champions. The champion should understand how digital technologies can benefit individuals and organizations in the community. The champion needs to be able to communicate these benefits in non-technical terms. The champion will:
Recruit Leadership Team members.
Organize Leadership Team meetings.
Arrange for one-on-one or small group discussions with key community leaders.
Identify and recruit residents to serve on Connecting Communities project teams.
Attend meetings of community organizations such as governmental boards, service clubs, non-profits to discuss the Connecting Communities project and its role in moving the community into the Information Age.
Successful champions should be charismatic, have good communication skills, understand the importance of digital technologies for the future of the community and be able to build commitment for the effort among members of community organizations.
Do you have a few people in mind who might be your PROJECT CHAMPION? If so, they should be included on the Leadership Team identification Worksheet linked below and highlighted as potential champions.
The Leadership Team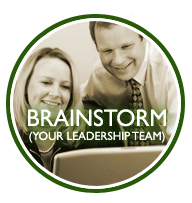 You will need a team of community members to help you start this process. These should be people that strongly believe that information technology is crucial to the future of the community. Be inclusive; everyone has a stake in creating a connected community. At the same time it is important to understand that there could be tension and conflicting interests and perspectives on how to best provide broadband services and who should provide them. There are also different laws in different states that regulate who can provide broadband services. Most states would allow public institutions to be served by public broadband networks, but might prohibit those networks from serving private residents and businesses. In those kinds of environments, there may be a need to organize sub-groups which are not perceived as being able to receive the services they need. For example, if a community is prohibited from providing broadband services to its residents and businesses but it's public and civic organizations are not receiving adequate services at affordable rates, there is potential for creating a community area network (CAN) that services those entities. Recent ARRA funding has targeted projects that provide improved fiber connectivity to core community anchor institutions including: schools, libraries, local units of government and civic organizations like hospitals. Many of these institutions are the largest data users in the community and often have the least ability to pay for these broadband services. These networks serving public and civic organizations are most often maintained as "open networks" that create opportunities for partnering with last mile broadband providers who do serve businesses and residents. In addition, there are often instances where public investments (For example, a public safety radio tower network) could be utilized by private sector providers to provide broadband services to businesses and residents.
Team members could include:
Government
Public safety services: police, fire, and EMTs
Citizens
Health Providers & Services
Youth groups
Education: K-12 to College, both public and private
Businesses: large and small
Work at home moms and dads
Nonprofits/civic groups
Economic Development
Last mile broadband providers including: Telephone Companies, Cable Companies, wireless companies, Cell phone companies, Electrical Utilities, Internet Service Providers (ISPs), and other existing or potential broadband vendors
Anyone with an interest in the expansion of broadband
The leadership team of 3 to 9 members will direct and coordinate the process of identifying potential connecting communities projects. They should understand (or be willing to learn about) the benefits that digital technology will bring to the community's children and families, schools, businesses, government, libraries, and non-profits.
Members don't have to be technology experts. The team will be more effective if there is a mix of community experts and technology experts. Community experts are individuals who are influential and know the community power structure. Technology experts include IT directors and staff from community-based organizations including government, business, healthcare, and education.
Leadership Team Responsibilities
Leadership team members will network with the formal (governmental, business, religious and non-profit/foundation) and non-formal (social organizations, service clubs) leaders in the community.
The key responsibility of the leadership team is to guide the process of increasing digital development in the community. Because digital development is a process that occurs over time, the team's responsibilities and activities will evolve. The leadership team will likely be directly involved in the initial projects. As the project evolves - engaging additional organizations and the number of projects grows - the leadership team will take on other roles including coordinating communication between project teams and facilitating teams through the process.
Here is a blank Leadership Team Identification Worksheet that can also be used to identify potential leadership team members.