Module 4: Online Technical Issues
Learning Objectives:

• Identify a few ways that Web 2.0 applications are changing the face of e-commerce
• Identify some technical components of successful e-commerce sites
• List advantages and disadvantages of differing methods of Web site design
• Visualize the many components (other than site design) involved in electronic sales
• Identify some crucial security issues.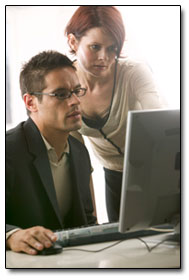 e-commerce offers much promise for small business to trade in the ever-changing market. However, a mistake that many start-up etailers make is to perceive etailing as a purely technical issue. Most etailers think that once the technical issues are resolved (e.g. virtual storefront is built; secure payment strategies are in place, etc.), their store is ready for business.
Any e-commerce effort can be studied from two viewpoints: the technical and the social. While technology is advancing at a fast rate, the human or social viewpoint is often overlooked. This module will present an overview of the technical issues, but keep in mind that a technical solution alone is not sufficient for successful e-commerce.
---