Module 1: The Supply Chain
Learning Objectives:

• Recognize the importance of the supply chain
• Identify the players in your supply chain and beyond
• Identify generational characteristics of consumers that influence their online behaviors

Setting up an online enterprise is all about selling right? Wrong. It is important to remember that you become a member of the supply chain. This is a system of information, people, technology and resources involved in moving a product from the supplier to the consumer.
Supply chain activities transform natural resources and raw materials into a finished product that is delivered to the customer. The following graphic illustrates the typical supply chain, where the arrows stand for supplier-relationship management and customer-relationship management.


Image from Chen, Paulraj (2004)
Traditional manufacturers who make things to sell to businesses or consumers must often first buy things and then assemble them into the product they sell. For example, dog-food manufacturers buy meat by-products and packaging, and a maker of rocking chairs might buy various types of wood, stains, and nails. These businesses sell their product via traditional distribution channels, which includes wholesalers, distributors, and retailers, who then sell to the general public. If they produce an intermediary product (such as brake pads), they may sell them to distributors, who resell their product to final manufacturers and then, finally, to the consumer.

Etailers have the opportunity to cut out the 'middle' and sell directly to consumers over the Internet, using shipping companies for direct delivery to the customer. This "disintermediation" (eliminating the intermediary) allows the etailer to sell at a lower price than a traditional etailer (who has to pay for the series of markups), yet make a greater profit than traditional manufacturers (by splitting the difference). The etailer also has a more direct connection to his customers, so they can develop a better appreciation for the customers' tastes and needs.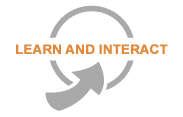 Click on the "Learn and Interact" icon to explore an example of the differences in the supply chain of a traditional retailer and an etailer in the business of making rocking chairs.